How It Began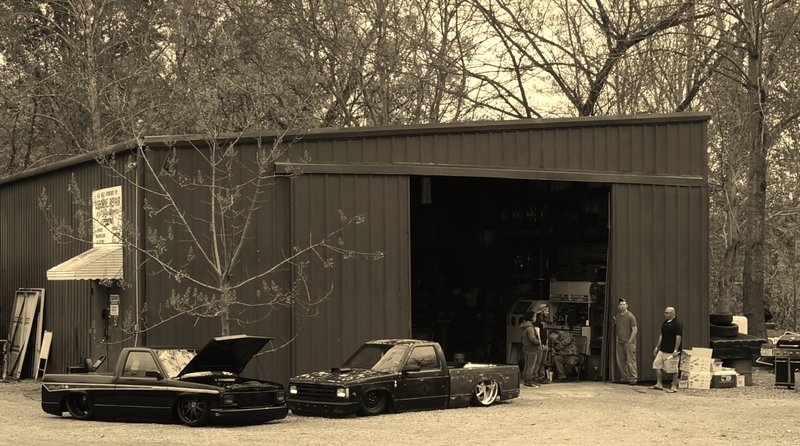 Hello, my name is Ben L. Osborne. The building pictured above was constructed by my late father, Gary T. Osborne. Specializing in diesel repair, hydraulics, and welding, his business stayed small from its inception in 1981 until his passing in 2012. It is now home to Buddies' Garage.
My experience customizing and fabricating started in 1995. Everyone wanted more from their vehicles than manufacturers could offer. Having tools and a shop at my disposal meant many long hours modifying vehicles and building relationships. The skillset I possess is rooted in being my father's assistant throughout the years. It grew with some schooling, a five year stint in retail sales and car audio/ security installation, seven years servicing the auto loan industry, and several short-lived positions with the railroad, in construction, and in manufacturing.
My father, unknowingly, coined the name "Buddies' Garage" in 2001. Late one night a friend and I were buttoning up his truck in preparation for a show. Although we had permission to be working late, my brother and a dozen or more of his friends decided to "hang out" without our father's knowledge. We will never know what led dad to check on our progress and, to his dismay, he discovered a bunch of teenagers in his shop. I quickly explained his other son was to blame so he took my brother outside. It was surprisingly quiet for several minutes until my father erupted, yelling, "I don't care! This is not (expletive) Buddies' Garage!"
The more the story was shared with friends, it became apparent that "Buddies' Garage" was a fitting name for the business. We helped each other customize our vehicles, and we constantly bartered amongst ourselves. From then on, I worked to make my automotive passion my career. In 2010, I was one of many Americans laid off due to the economic decline. I seized the opportunity and became an entrepreneur. Today, the bulldozers and road tractors have been replaced with customer and personal projects plus a myriad of aftermarket parts.
I strive to build more than custom vehicles and do so by supplying labor, parts, and information. My goal is to build passion for driving something different. Thank you for fueling the fire.