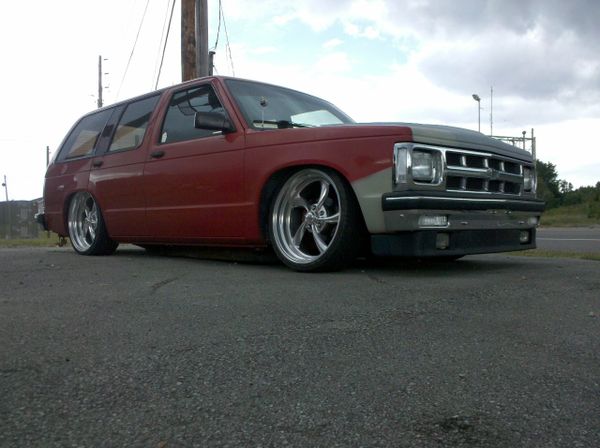 1992 S10 Blazer
Bagged by Dave Bosse during his time at suicidedoors.com. Lays frame on 20" wheels with stock rear seat. I have driven it daily for over 4 years with no major issues! Air ride: pair of Viair 480c, SMC 3/8" valves & 1/2" line, 8 gallon tank, Easy Street gauges custom mounted under the cowl on the hood, AVS ARC-7 clear controller, tubular control arms w/ shocks relocated & swaybar retained, LSoH "no toe" steering kit, custom wishbone 3 link w/ shocks, 2500 Dominators up front & Slam RE6s out back. Interior: OEM leather, digital dash, console shifter from 2nd gen modded for OEM fit/ function, billet steering wheel, billet pedals & grab handles, 75sq ft of Hushmat & new mids/ highs, Kenwood CD player. Exterior: Most bodywork is complete. Steel cowl hood. Also has a Yellow Top Optima, some billet under the hood, Hypertech chip, Comp Cams roller tip rocker arms, 12" rear disc brakes from F-body, trans rebuilt 15k ago & ready for 500+ hp. Several sets of wheels to choose from.
You would have to work hard to build this ride for what I'm asking.
Recently I have spent over $1000 mechanically on the drivetrain. New radiator, oil cooler lines, powersteering pump & high pressure line, water pump, alternator, A/C compressor/dryer/ oriface tube, starter, fuel pump, CPI unit & "nut kit", intake gaskets, K&N air filter, serpentine belt, IAC valve, EGR valve, HVAC blower motor & relay, cap/rotor/coil/wires/plugs, all fluids serviced, and Flex-a-lite #60 radiator fan. Most of the parts have lifetime warranties & the buyer will get all the paperwork.