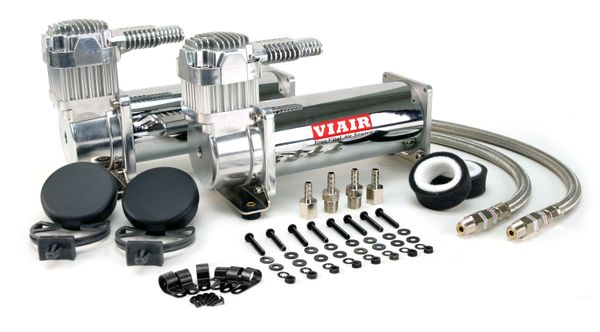 Dual 444C Value Pack
444C Dual Value Pack
200 PSI / 3.53 CFM

All 444C compressors feature a head assembly that includes a newly-developed, patents pending intercooler head. Additionally, they are equipped with a stainless steel braided leader hose with inline check valve assembly that serves to protect the compressor by eliminating the possibility of high amperage restarts.

Note: Use thread sealant for proper installation.
Teflon tape is not recommended. Properly sealed,
recommended torque is 12 to 15 ft. lbs.
Included Parts:
- (2) 444C (Chrome or Stealth Black) Compressors
- Intercooler Head (Patents Pending)
- (2) Air Filter Assemblies
- (2) Remote Mount Brackets
- (2) Sets of Remote Mount Fittings
- (2) Sets of Spare Air Filter Elements
- (8) Sets of Nuts, Bolts, Washers and Lock Washers
- (2) Stainless Steel Braided Leader Hoses with Inline Check Valve
- (6) Airline Clips with Included Hardware